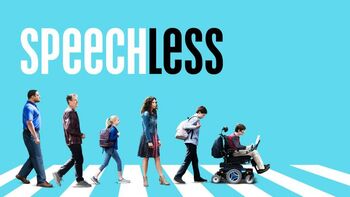 Speechless is an upcoming ABC sitcom starring Minnie Driver.
The show is set to premiere on September 21, 2016.
Plot
DiMeo (Minnie Driver) is a mom on a mission who will do anything for her husband Jimmy, her kids Ray, Dylan, and JJ, her eldest son with cerebral palsy. As Maya fights injustices both real and imagined, the family works to make a new home for themselves, and searches for just the right person to give JJ his "voice."
Cast
Ad blocker interference detected!
Wikia is a free-to-use site that makes money from advertising. We have a modified experience for viewers using ad blockers

Wikia is not accessible if you've made further modifications. Remove the custom ad blocker rule(s) and the page will load as expected.